IBC 2013
International Broadcast Conference (IBC) is a large annual exhibition and conference for the TV industry.
The exhibition part presents TV and film camera, camera cranes and gimbals, TV studio equipment and video processing equipment. There were quite a few companies presenting multirotors and single rotor helicopters for filming.
Here are a few highlights found at the exhibition.

Panasonic
TV Studio cameras used to have one operater stading behind each camera. Now multiple small cameras on gimbals can be remote controlled by one person in a video mix room.

Shot Over Gimbal
Large gimbal for mounting on full size helicopter.

Mini helicopter
Large single main rotor with electric drive from Flying-Cam. This helicopter have been used e.g. for filming action scenes in the James Bond film Skyfall.

Octocopter
Large octocopter with Red Epic camera from Teradek.

Double quadcopter with downwards propellers
Bradley sells remote operated camera systems. This double-quadcopter model was displayed by other companies as well. It is unclear if it is able to fly, rather it looks like a design concept for show. The double arms is an inefficient design.

Ace
Ace is a Chinese company producing quadcopters. The small model have earlier been displayed at Cebit 2013.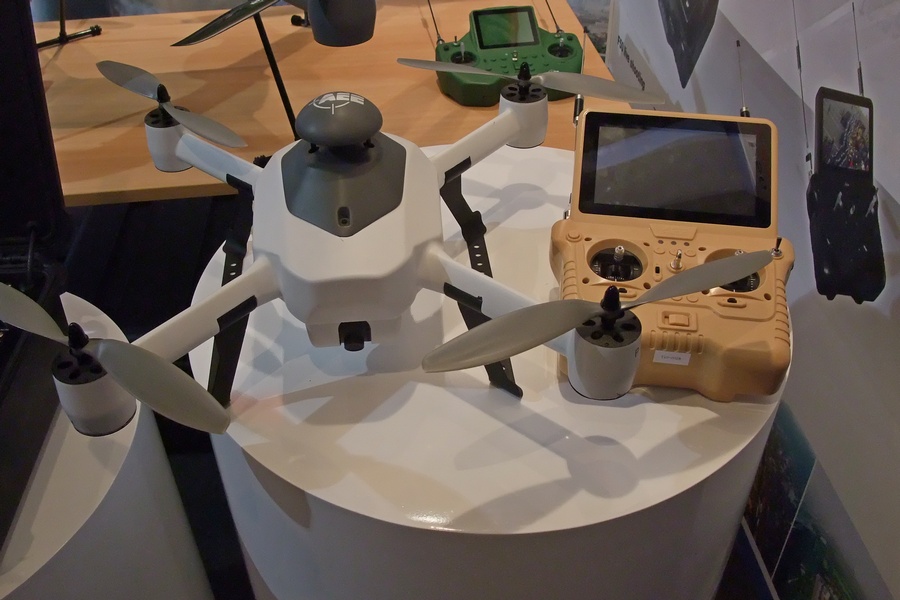 Ace displayed a very large model, propellers ca. 60 cm. However this was just a mock-up.
Altura
Altura double-quadcopter from Aerialtronics.

Frauhenhofer
The research institue Frauhenhofer demonstrated a 360° panorama camera with 10 cameras and mirrors.

Broadcast cables
High frequency cables, a coax that is a tube inside a tube and the delectric is main air.
Lens is a camera
Sony presented a camera type, that looks like just a lens, but it is a complete camera. The camera is ment to be clipped onto a mobile phone and operated from the phone and using the screen on the phone as view finder. To setup the Wifi connection between lens and phone the lens has built in NFC. There are two models QX10 and QX100.

---
Tags: Amsterdam NL, IBC 2013
Edited: 2013-12-28