Cebit 2013
Cebit is the world largest ICT exhibition. It runs every year at the beginning of March in Hannover DE.
Multi-rotor helicopters as micro-copter and development scale model of soon human flight were on display at Cebit this year. Also flexible display walls, wireless charging add-on for Samsung Galaxy S3 and more 3D printers. This beside the usual selection of new PC and notebooks.
Here are a few highlights found at the exhibition.
Ultrabook PCs
Acer displayed two new models of very thin ultrabooks S7 with aluminium surfaces. Screen resolutions in HD Ready (1366*768) and full HD (1920*1080). With micro-SD card slot.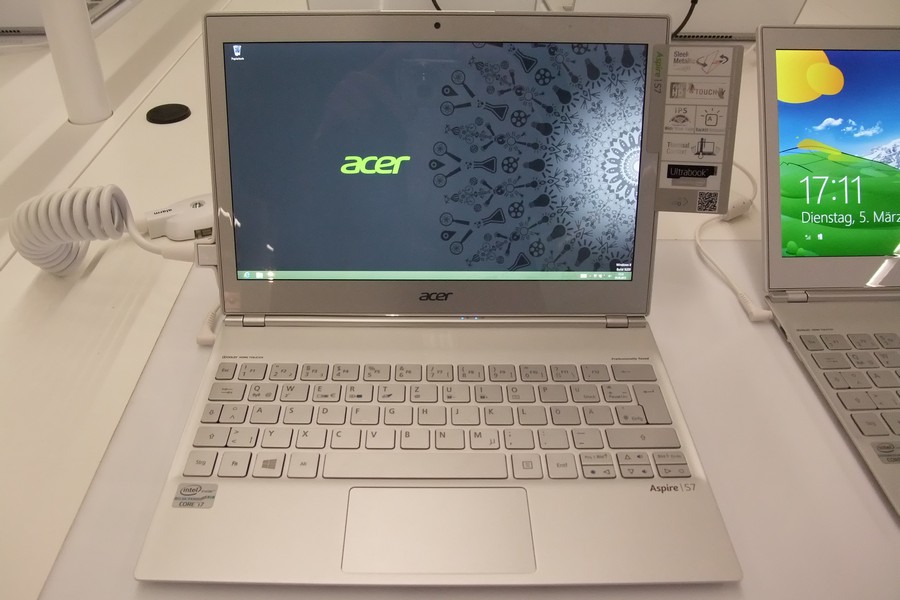 Wireless charging
Aftermarket solution for wireless charging on mobile phones from Gopod. Here for Samsung Galaxy S3 and Note2. These two phone models are actually prepared for wireless charging but Samsung has not launched the charging hardware. The phone part is a pad that connects to two points exposed next to the battery bay. The pad is thin enough that backcover still fit properly.

Android TV dongle
Sunchip-Tech demonstrated a dongle to make a TV into a tablet running Android. Not to be confused with a set top box, the device does not have TV antenna or satellite receiver. Rather the device has Wifi, microSD slot, USB port and connects to TV with HDMI port. Adding a mouse it can work as giant Android tablet.

Micro-copters
Micro-drones from DE presented a new larger UAV model MD4-3000, with overall size of 2.1 * 1.9 m. Back arm is placed lower than front and centre is shaped like a wing to provide better aerodynamics during forward flight. Requires less energy to fly. Flight radius up to 50 km. Price will be ca. 40K EUR.

At the hall Code_n for start-up companies, E-Volo displayed a scale model with no less than 19 propellers. It is an R&D model used for design and test in preparation of their coming full size electric VoloCopter VC200 that will fly with two persons. The scale model is like a hexa-copter where each arm is Y shaped and have 3 propellers of size 45 cm. Additinally a vertical propeller behind the cockpit, but this one will be eliminated on final model. E-Volo is the continuation of the university project that in 2011 made a short human flight on a multi-rotor electric helicopter VC1.

Duisburg-Essen university displayed a two propeller mini helicopter UAV. The propellers are tilted ca. 30 degrees and intersect, so they are mechanical connected to avoid hitting each other, this is known as intermeshing rotors. Additionaly the helicopter carry a RC model car that can drive around a remote location after landing.

Display wall
The South-Korean company Sky Music Light demonstrated a flexible display wall made of rows of RGB LEDs. Density is 40 LEDs per meter. With one controller running from a composite video signal it can be scaled to 10*10 meter, i.e. 400*400 LEDs.

Maxi USB hub
Manhattan MondoHub, USB hub with no less than 28 ports, 4 ports USB3 and 24 ports USB2. Enough?

3D printer
Several 3D printer were on display. A new one was Fabbster. It uses special bars of ABS plastic with teeth on the side and hook at the end to assure sequential feeding for the print process.

Two wheel parallel scooter
Selfbalancing personal transportation like Segway scooter. Small version and large version.

Cebit report at Euronews:
2013-03-12 CeBIT: Sharing makes sense at Cebit
2013-03-13 CeBIT innovations

---
Tags: Hannover DE, Cebit 2013
Edited: 2013-05-02