Cebit 2017
Cebit is an ICT exhibition, but it also feature other new techonolgy like UAS / drones. A few high-lights:

Watertight drone
The Chinese company SwellPro demonstrated their new Splash Pro 3 quadcopter that can land on water and take-off from water. When floating in the water the waterproof gimbal and camera can take photo and video under the water surface. Sold in DE for 1799 EUR incl. VAT.

Yin Tong UAV
Yin Tong is a company from Taiwan that are specialised in large UAVs for agriculture spraying.
The company use hexacopters, with sprays on two front arms and two opposing arms which further each have arm-extensions with an additional spray, in total 6 spray points.
At Cebit they displayed their large 16kg model with 130 cm diameter + extensions. It can carry up to 16 kg liquid to spray.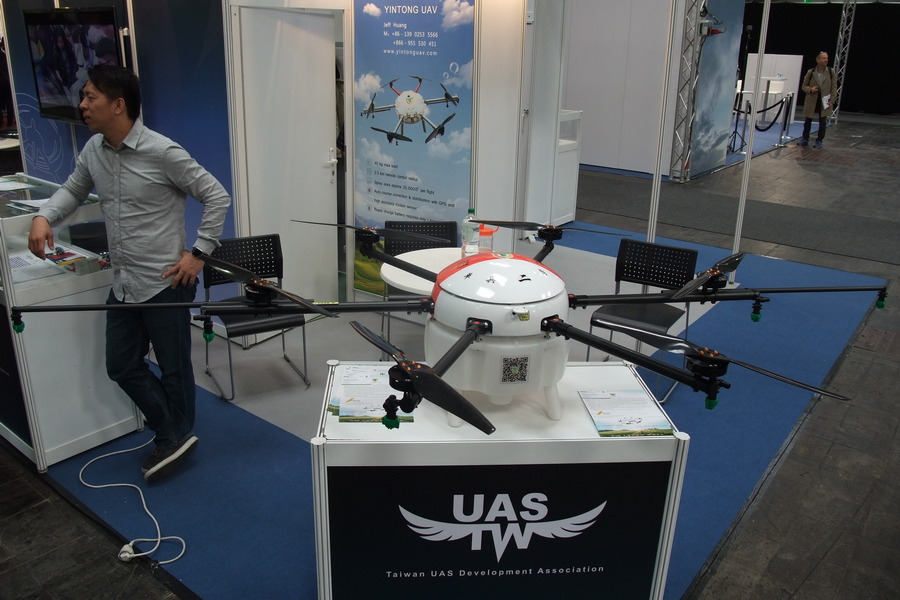 Yin Tong have an even larger model that can carry 45 kg spray liquid and has a diameter of 205 cm + extensions. They did not bring it to the exhibition because of its large size.

MikroKopter
German MikroKopter demonstrated their new ready to fly octo-copter MK8-3500. Due to its large size the octo-copter has detachable arms for easy transport and storage. It uses 2 or 4 LiPo batteries of 6S each, for flight time up to max 40 mn.

---
Tags: Hannover DE, Cebit 2017
Edited: 2017-05-30